Religious Services
Sunset Senior Living provides a variety of religious and pastoral services throughout the week. These services are conducted in the Oliver's Chapel located on the second floor off the main elevator. Sunset Home provides pastoral services twice a week and communion is served to all residents who request sacraments weekly by a Catholic Priest.
Worship Services in Oliver's Chapel 2nd Floor
| Worship Services | |
| --- | --- |
| Sunday, Worship 1:30 pm | Sunset Pastoral Services |
| Thursday, Catholic Mass 3pm | Blessed Sacrament Parish Priest |
Sunset Home's History with the United Methodist Church
More than 129 years ago, Mr.  & Mrs. Charles Pfeiffer had a strong desire to provide care and shelter for the elderly so they offered their modest home at 418 Washington in Quincy to several older people who needed loving care through their remaining days. The Pfeiffer's realized the need for such care was larger than what they had expected, so they offered the home to the St. Louis German Conference of the Methodist Episcopal Church. They sent a proposal offering to donate their home and its contents to the conference if the membership agreed to continue the residence as a home for the aged. The conference voted to accept the gift and in December of 1889 the home was incorporated. Today we are still related with The United Methodist Church through a Covenantal Agreement with the Illinois Great Rivers Conference, working within the guidelines of the United Methodist Book of Discipline. While continuing to address the physical needs of our residents that Mr.  & Mrs. Pfeiffer envisioned so many years ago, and it remains our primary concern today, we have not forgotten their spiritual well being.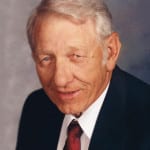 July 29, 1923 – Dec. 25, 2013
Reverend Oliver Taube
"IT IS WELL WITH MY SOUL"
Celebrating our beautiful new chapel and to honor Reverend Oliver Taube. Rev. Taube served Sunset Home as pastor for over thirteen years. Our guests include Rev. Taube's family, Sunset's residents and their families, staff, Board of Directors, local pastors and key individuals who were instrumental with the remodel project.
HISTORY:  We are excited for the completion of Oliver's Chapel at Sunset Home remodel project. The planning started several years ago with successful fundraising efforts and a grant from the Arthur 0. & Lela B. Lindsay Fund. We raised $38,293 that paid for the full renovation including new chairs, light fixtures and flooring. The blessings keep coming: Janet Quintero, of Vermont Street United Methodist Church has created and is donating a custom made stain-glassed window piece to place on the altar: "The Ascension of Jesus" and is dedicated in loving memory to her parents Reverend John & Miriam Conaway.

Your Golden Cross Ministries
"You shall love the Lord your God with all your heart, and with all your soul, and with all your mind, and with all your strength. The second is this, You shall love your neighbor as yourself. There is no other commandment greater than these."  MARK 12:30-31
Illinois Great Rivers Conference of The United Methodist Church
God works through your prayers and support in acts of mercy to bless the lives of individuals of all ages and at all stages of life.  Your Golden Cross Ministries serve more than 6,500 individuals each year in benevolent care.
Older Adult Ministries
Evenglow Lodge – Pontiac: Serving seniors through a comprehensive range of services in a Christian multi-level care retirement community.
Sunset Home – Quincy: Leading the Way since 1889 in serving seniors with housing and health care services designed to meet their individual needs.
The United Methodist Village – Lawrenceville: Serving seniors with all levels of care.
Wesley Village – Macomb: Offering seniors a choice of independent living, healthcare, skilled care, and memory care in a caring Christian environment since 1980.
Hospital Pastoral Care
Alton Memorial Hospital – Alton: Improving the health of the people and communities we serve.
Pastoral Care Methodist Medical Center – Peoria: Providing a ministry of pastoral support to patients, families, and staff in times of medical crisis.
Children & Family Ministries
Chaddock – Quincy: Offering trauma-focused services that give hope and healing to at-risk children and families through special education, community programs and residential treatment.
Lessie Bates Davis Neighborhood House – E. St. Louis: A multi-purpose community center providing programs and services which empower and strengthen people of all ages.
The Baby Fold – Normal: Providing excellent care through residential treatment, family support, foster care, adoption, prevention services, and special education.
United Methodist Children's Home – Mt. Vernon: Healing today for a brighter tomorrow through excellent services for individuals, families, and communities.