Independent Lifestyle Options
Sunset Apartments and Sunset Villas is a service offered under the umbrella of Sunset Senior Living and are available to individuals and families seeking an independent lifestyle. The Apartments and Villas offer a type of housing that fits their needs, with easier mobility and maintenance free living. Residents of the Apartments and Villas are welcome to utilize the general community and common areas and participate in the daily activities.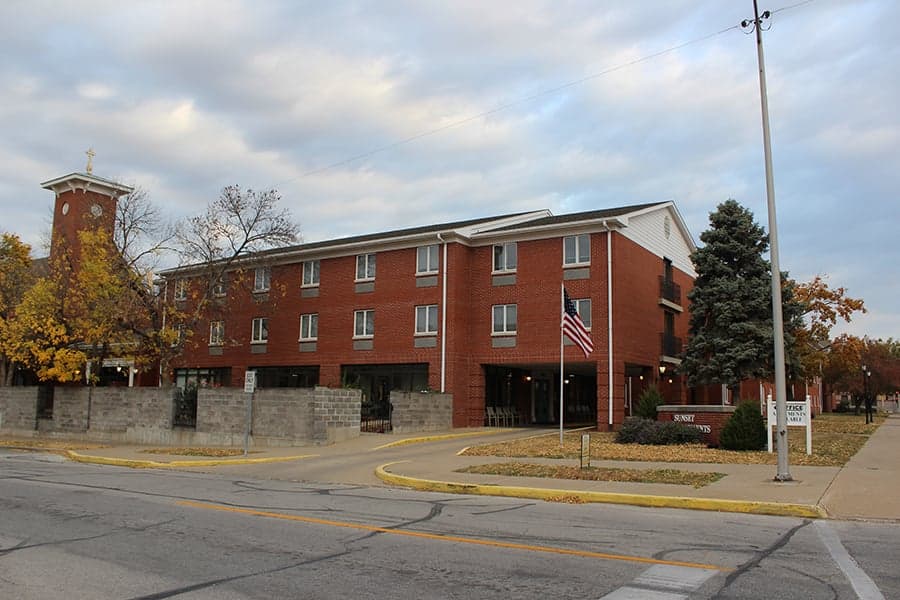 Sunset Apartments
301 North 8th | Quincy, IL
Sunset Apartments offer the opportunity to maintain independence and privacy while enjoying an environment that supports daily life and social activities. All one and two bedroom apartments offer a living room, private bath and kitchenette. Apartments are unfurnished except for stove and refrigerator. All apartments are handicap accessible with wide doors for easy mobility.
Apartments are available through a leasing program. Some of the services offered at Sunset Apartments include:
Janitorial Services in all common areas
Apartment maintenance (does not include regular housekeeping)
Paid electric, gas and water utilities (does not include telephone, cable or internet)
Private Parking rental and some off street parking
Mini-grocery store on site
Beauty/ barbershop
Meals on Wheels site (Monday through Friday, noon meal only)
Residents of Sunset Apartments receive priority admission into Sunset Home if the need arises.
Click on the floor plan options below to view larger floor plans.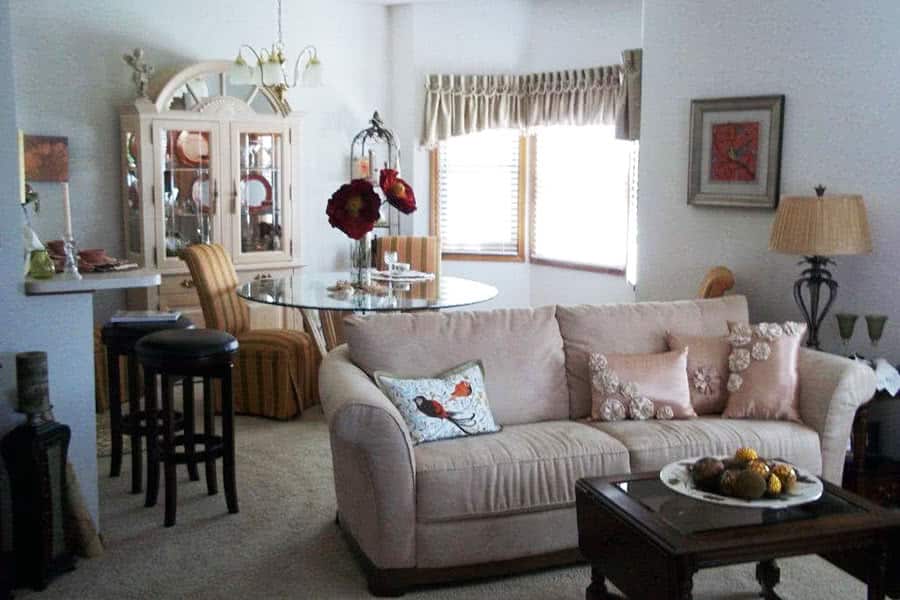 Sunset Villas
419 Washington | Quincy, IL
Maximize your independence in the company of socially active individuals with condo style living.  Are you downsizing? Sunset Villas are just the answer!
Enjoy the privacy of your own apartment in Sunset's Villa Complex. Each condo style apartment features over 1,000 square feet of living space and is equipped with all appliances, including a washer and dryer.
Located just across the street from the main building, Villa Apartment living offers services that include an emergency call system monitored by our staff 24-hours a day for your peace of mind.  You'll enjoy a maintenance free environment, basement garage with storage area and elevator service, too. This living option is inviting to retirees who are able to provide for their own physical needs but desire services readily available.
Access to services in Sunset's main building for daily meals, activities, worship services, beauty and barbershop, and long or short term nursing care is readily available.
Residents of The Villa receive priority admission into Sunset Home if the need arises.
Click on the floor plan below to view larger floor plan.
Call today for a tour of Sunset Apartments or Villas